Graduation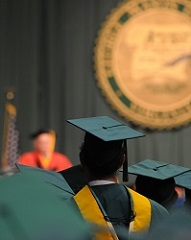 Graduation is not an automatic process. Students should apply to graduate no later than the application deadline. You must be in good financial standing with the University to receive your diploma.
---
Ceremony Information
| | |
| --- | --- |
| | For information on the ceremony events, please go to events.gmu.edu.  Caps and gowns are available at the GMU campus bookstore. Please contact the bookstore for more information. |
---
Important Information for Students
You must be actively enrolled in the semester you graduate.
If permission was granted to Study Elsewhere (ZREG 101), please make sure that transcripts are sent to the Office of the University Registrar. You cannot graduate with active ZREG hours. If no classes were taken, please complete the Study Elsewhere Removal form.
All in-progress grades (IN, IP, NR),

even

if they are not applicable to the degree, must be resolved within six weeks after a conferral date. If you are unable to finish the course work during this six-week period, you must withdraw your current application to graduate and re-submit for the next scheduled graduation.
---
Don't be surprised later! Read on for more information on the most common graduation questions and how to avoid any stumbling blocks.
FAQs on Graduation
If you completed all degree and University requirements within 6 weeks of your date of requested graduation, but your degree was never officially conferred, you may submit a Retroactive Graduation Request. To qualify, there may be no changes or additions to your record since the time of the requested graduation date. You must submit the Retroactive Graduation Request Form to your academic department for preliminary review and approval, then forward the form to the Office of the University Registrar for processing. If an academic action such as a substitution or waiver, or dropping a minor or second degree is required to meet graduation requirements, please contact the Office of the University Registrar for guidance at degree@gmu.edu.
Graduation Pending simply refers to the decision made collectively by your academic department and the Graduation department that you are eligible to graduate.
Since we cannot officially confer degrees prior to the three conferral dates in an academic calendar year, the Graduation department will place a Graduation Pending status on your record. Please be aware that Graduation Pending is only granted for students who have fully met the requirements of their academic program, including having all final grades posted. Once the date of official graduation arrives, the Graduation department will update your status to Degree Conferred.
You must meet the requirements of both academic programs in order to graduate. You cannot graduate from your minor in a different semester than your major. However, if you do not meet the requirements of your minor but you have fulfilled the requirements of your major, you may drop your minor and still be eligible for degree conferral. To drop your minor, please go to registrar.gmu.edu > click on the forms tab > click delete program request form. You do not need departmental approval to drop a minor and this request will be submitted electronically.
If you realize you will not complete the requirements of your academic program during the term in which you have applied to graduate, you must submit the Withdraw Graduation Application form online to remove your graduation application.  Please be aware that you will not be able to register for classes until you withdraw your application.
The Graduation Department does not offer student advising. If you feel that your degree audit does not reflect your academic record correctly, your Academic Advisor is best equipped to provide you with help. Speak with your advisor right away to resolve the problem.
Undergraduates: Students in a Bachelor's/Accelerated Master's program must complete a Bachelor's/Accelerated Master's Transition Form. The form must be submitted to the Office of the University Registrar prior to graduation from your undergraduate program.
We encourage you to monitor your degree status by accessing your unofficial transcript on Patriot Web. When you see the phrase: Degree Awarded followed by your graduation date, that is your indication that you have officially graduated. We post degrees in real-time so please check your transcript often. We will contact you only if there is a problem with your application. Please keep in mind that participation in the May Commencement and Winter Graduation does not guarantee degree conferral.
To apply for graduation, login to Patriot Web then click on 'Student Records' followed by clicking on the 'Apply for Graduation' link. Follow the instructions. View the step-by-step tutorial here.